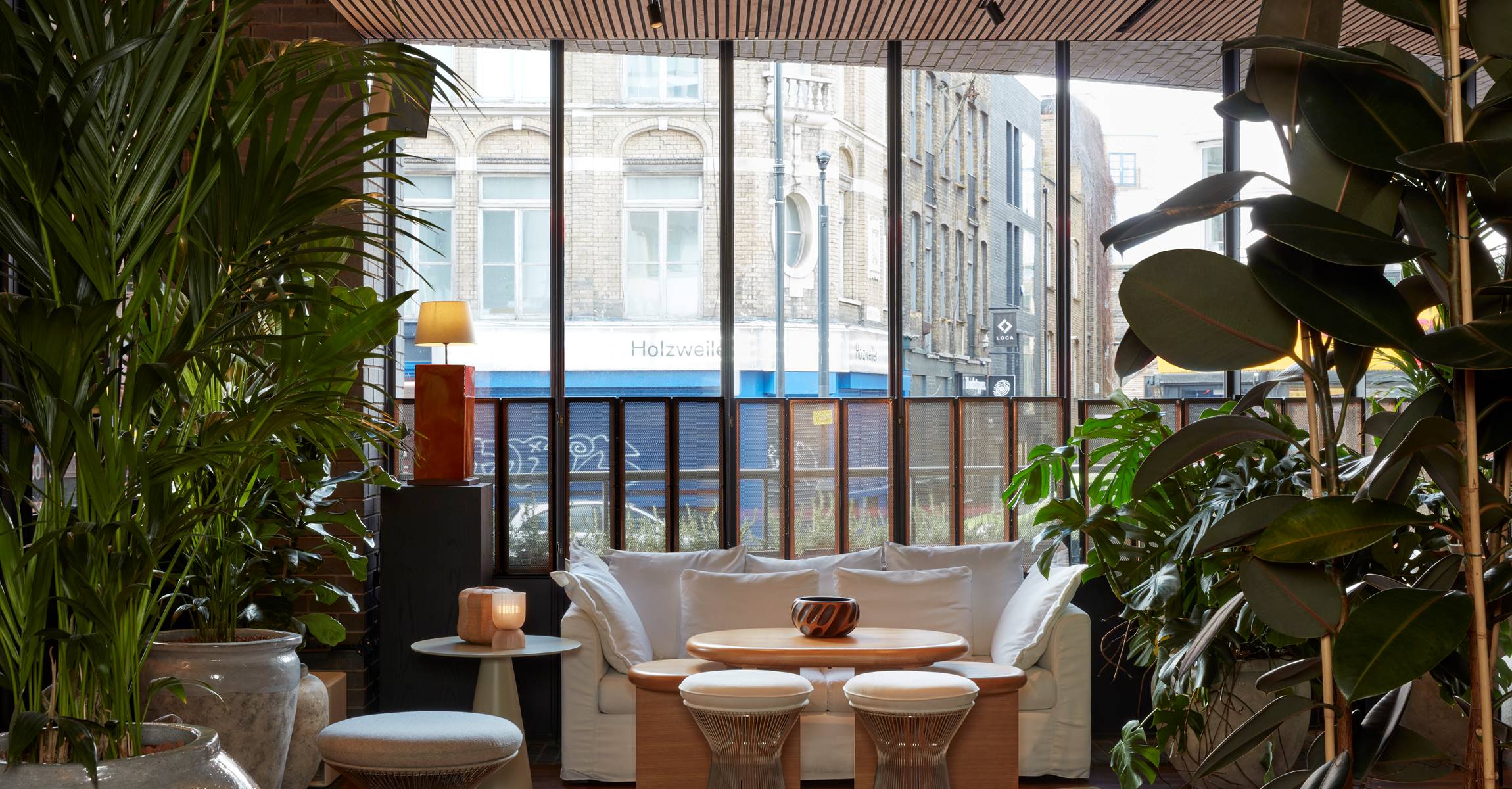 Sustainability
We are currently working to establish One Hundred Shoreditch as a fully sustainable hotel. Our strategy is underpinned by the FuturePlus framework, a comprehensive ESG measurement and management platform that assesses sustainability across five themes: Climate, Environment, Economic, Diversity and Inclusion and Social.
As a community-centric property, we have committed to being a socially conscious business, and have been working with FuturePlus since January 2023, to understand, measure, manage, improve and report on our sustainability impact and goals. This is vitally important for us as we want to hold ourselves to the ambitious sustainability goals, we have set for One Hundred Shoreditch, in a rigorous and unambiguous manner. These results are demonstrated in a quarterly impact report that highlight our achieved goals and our ambition roadmap.
This work also includes official partnerships with the Considerate Group (B-Corp Certified) to ensure our energy and water consumption and carbon output is consistently monitored with formal reporting. We partner with Thrive (Impact Evaluation Standard , HM Treasury) to measure and monitor our social impact value and are additionally in the process of applying for a BREEAM In-Use certification to drive continuous sustainable improvements across the business. One Hundred Shoreditch has official charity partnerships with Spitalfields Crypt Trust and Foundation for Change.
social and environmental sustainability initiatives
Responsible Business Initiatives
Electricity consumption is fully renewable
Digital Check-in/out automations
Digital key
Recyclable collateral
Recyclable waste solution including paper, glass, hardware, batteries, toners, food waste and cardboard
LED lighting throughout guest facing areas
Energy and water management in-room system control
Earth card linen cleaning options
DS & Durga bathroom amenities in glass dispensers
Pure Water Fountains – still and sparkling
Amenities single-use plastic-free
Press Reader digital reading materials (App)
Green cleaning solution (Sybron)
Digital menus
Sustainable laundry solution
Local suppliers for food and beverage
sustainable refurbishment
This Project has been led by Jacu Strauss, Creative director for Lore Group and his team. They see themselves as custodians of our properties and for all projects spend time understanding the context of the built environment and its relationship to the neighbourhood.
They are always sympathetic to the original design and curate what is beautiful about the original property and how it connects to the local community. Taking the time to understand and appreciate the beauty and bones of each location and then revealing this to new audiences, gives new life to these built environments.
One Hundred Shoreditch has local history, and the community are attached to various aspects of this, the team wanted to respect rather than change this in the next evolution for the hotel. We see this in continuing themes throughout the experience, from the creation of a campus of buildings that are more in rhythm with the architecture of the street to the enhancement of the panelling, flooring and various fittings throughout our hotel.
All existing doors and timber floors have been restored
Our beautiful new oriel windows allow the rooms to be naturally aired.
Our roof and all terraces received a full thermal insulation upgrade.
Our guest room and all public areas water chilling (HVRF) systems was fully replaced with an energy efficient solution.
Our Chilled water mains and pump has been changed to an energy saving option with inverter controls
Our air management system (MVHR) was fully replaced with an energy efficient solution
Our water temperature consistency system (trace heating) has been fully replaced with an energy efficient solution
Our 7th floor kitchen has been fully converted from gas to equipment that relies fully on renewable electric energy and all kitchens have had energy efficient equipment upgrades
A new, fully automated BMS system installation including inverters for energy management has been installed
All existing air handling units have been refurbished to allow more efficient motors and heating cores, lowering energy requirements
Our water system has been fully upgraded to an energy efficient condenser system
All halogen bulbs have been upgraded to LED lamps reducing energy consumption and regular waste
Our Farrers coffee and tea bags are 100% biodegradable with compostable wrapping
Our Moostix milk selection including oat and UHT milk are Red Tractor and BRC food certified. They have reduced plastic by 20% and wrapping by 50% and continue to work on making this option 100% plastic free
Our grooming and vanity products are fully compostable and biodegradable
We have introduced DS & Durga glass dispensers for all your shower amenity requirements
All in-room collateral is fully recyclable and biodegradable
explaining esg
E covers all responsible business actions specifically related to environmental sustainability including how we purchase, manage, track and recycle all our consumption from food to energy
S covers all our commitments to our team, guests, strategic partners and community
G is how we bring this all together and ensure we formalise, track, train, communicate and improve all that we are doing so we can truly demonstrate our commitments 
Our ESG (sustainability) strategy is guided by the United Nations Sustainable Development Goals within the Future Plus framework. One Hundred Shoreditch partners with Clifton Healthcare, a health and safety provider that adheres to guidelines in ISO31000 for Risk Management; ISO22000 for Food Health and Safety and ISO 45000 for Occupational Health and Safety.
Please click on the respective links for access to our quarterly Future Plus report and our EPC certificate. Should you have any questions or suggestions based on the information on this page, please do feel free to get in touch below.